Plans & Billing
Table of Contents
The Plans & Billing page shows the information about our available monthly pageviews, added cards, and billing history. This page helps us figure out how well our current Bevy Design subscription plan is working for us and helps us decide if we need to upgrade or change our current subscription plan to fit our needs.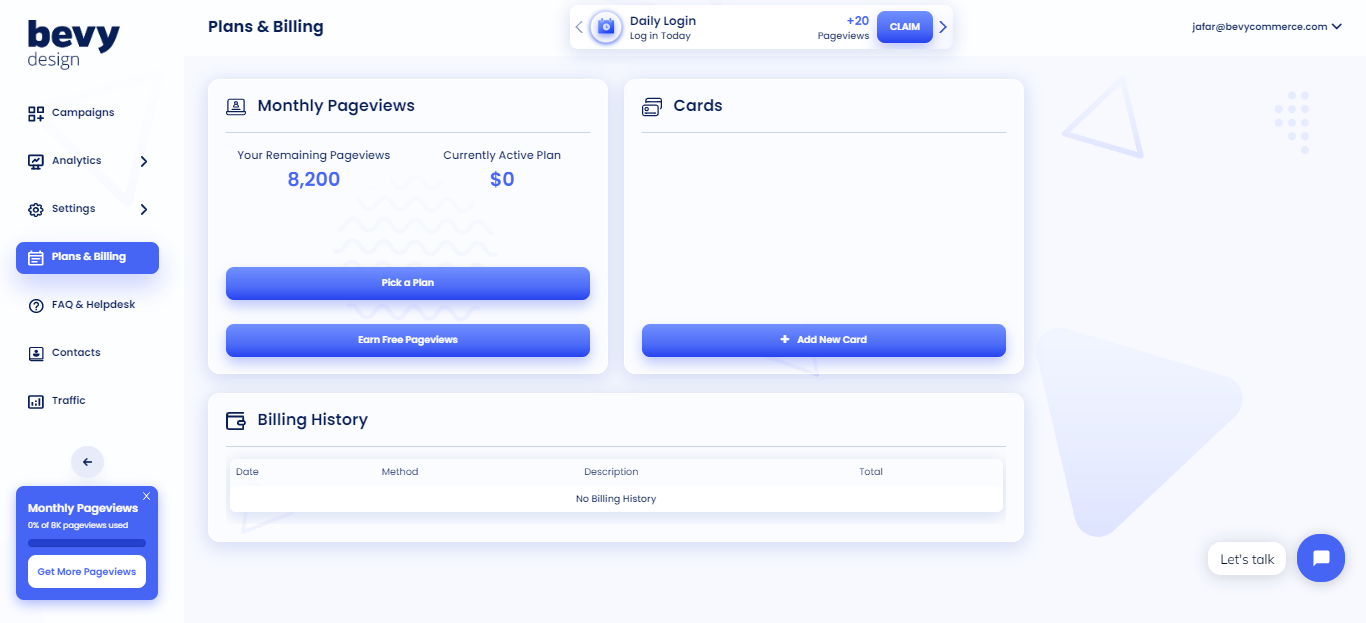 Monthly Pageviews
This section shows us the following information:
Your Remaining Pageviews: The number of pageviews we have remaining in our account for the month.

Currently Active Plan: The monthly cost of the currently active subscription plan.
Cards
In this section, we can manage the cards that we have used to pay for pageviews.
Billing History
In this table, we can find the details of our billing history, such as date of payment, method of payment, description of payment, and the total amount of payment.
Note

In Bevy Design, the monthly pageviews reset at the end of each billing cycle.

Bevy Design allows us to change our plans. Let's say, in January, we purchased 40,000 pageviews. Later, we realized that our website needed more pageviews. This is where the change plan option comes in handy. So, at the start of the next billing cycle in February, we can change our plan and switch to a plan which offers more pageviews.
How To Add a Card?
If we are non-Shopify users, we have to add a card before buying pageviews. Adding a card is simple as ABC, and the steps are mentioned below:
Step 1: On the Plans & Billing page, we go to Add New Card.
Step 2: We fill out our information and click on the Add button.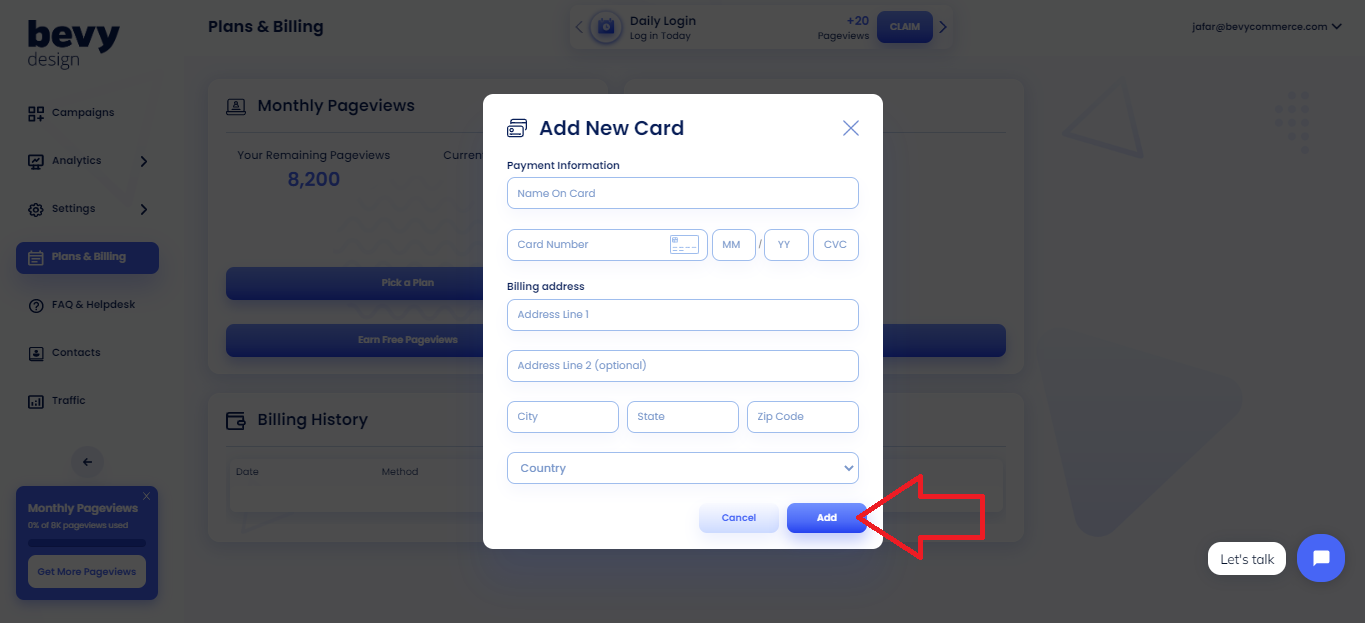 And we are done! Our card will be added, and we will be able to buy pageviews.
Shopify users won't have to add their credit cards to buy pageviews. After they select the desired plan, their payment will be processed directly through Shopify.
Non-Shopify users must complete the above steps and add a card before buying pageviews.
How To Buy Pageviews & Change Plans?
In Bevy Design, the process of buying pageviews and changing plans are super easy. All we have to do is follow some simple steps that are listed below:
Step 1: In the Monthly Pageviews section, we click on Pick a Plan.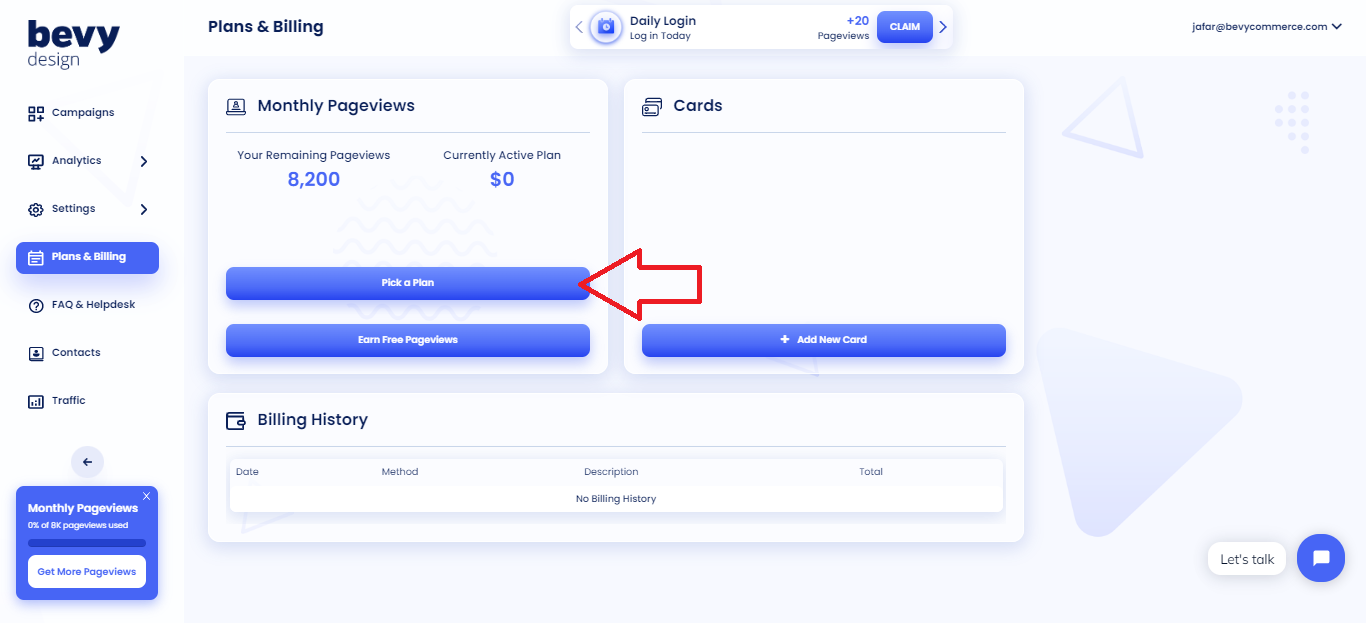 Step 2: Now, the Select Your Monthly Plan modal shows up. From here, we can select our desired plan starting from $29.00 to $249.00. We can also stay on the 500 pageviews plan for FREE!
Let's say we want to buy the $99.00 plan. In that case, we have to click on the plan and hit the Upgrade button.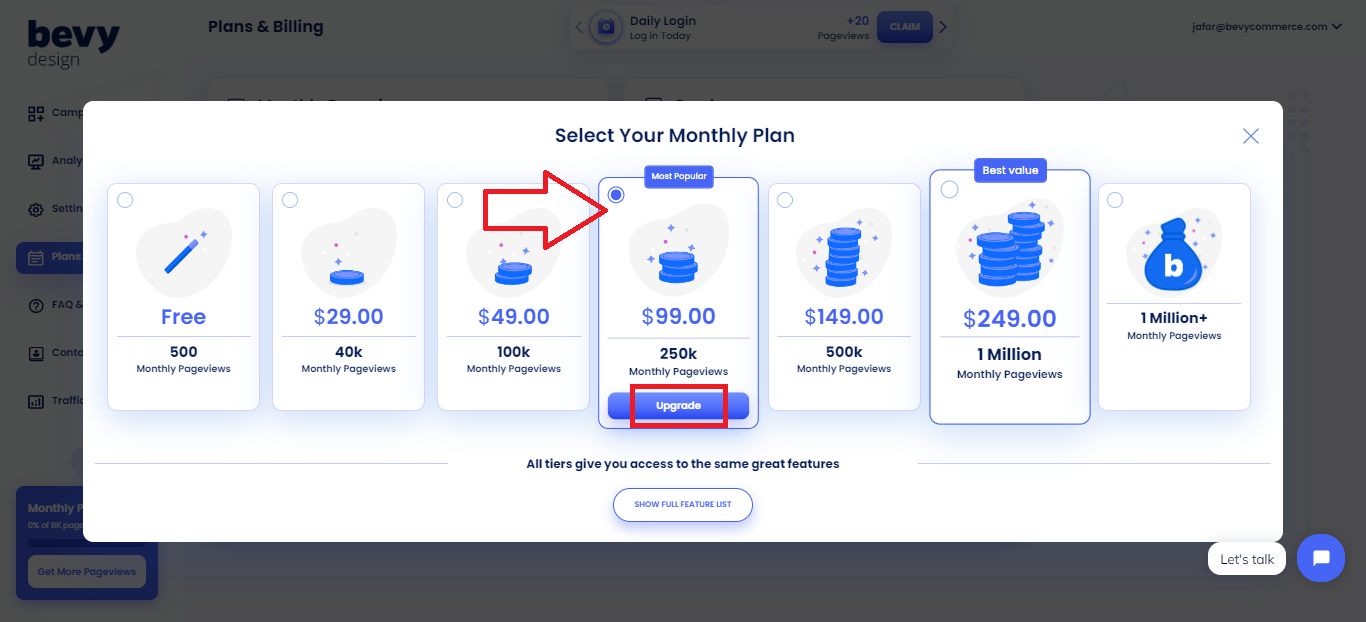 Step 3: A quick confirmation modal will show up next. If we are sure about the plan, all we have to do is click on the Upgrade Now button to purchase the subscription plan.
How To Claim Free Pageviews As Rewards?
Bevy Design features challenges through which we can claim free pageviews as rewards. We can claim rewards with just a few clicks by following the steps mentioned below:
Step 1: On the Plans & Billing page, we go to Earn Free Pageviews.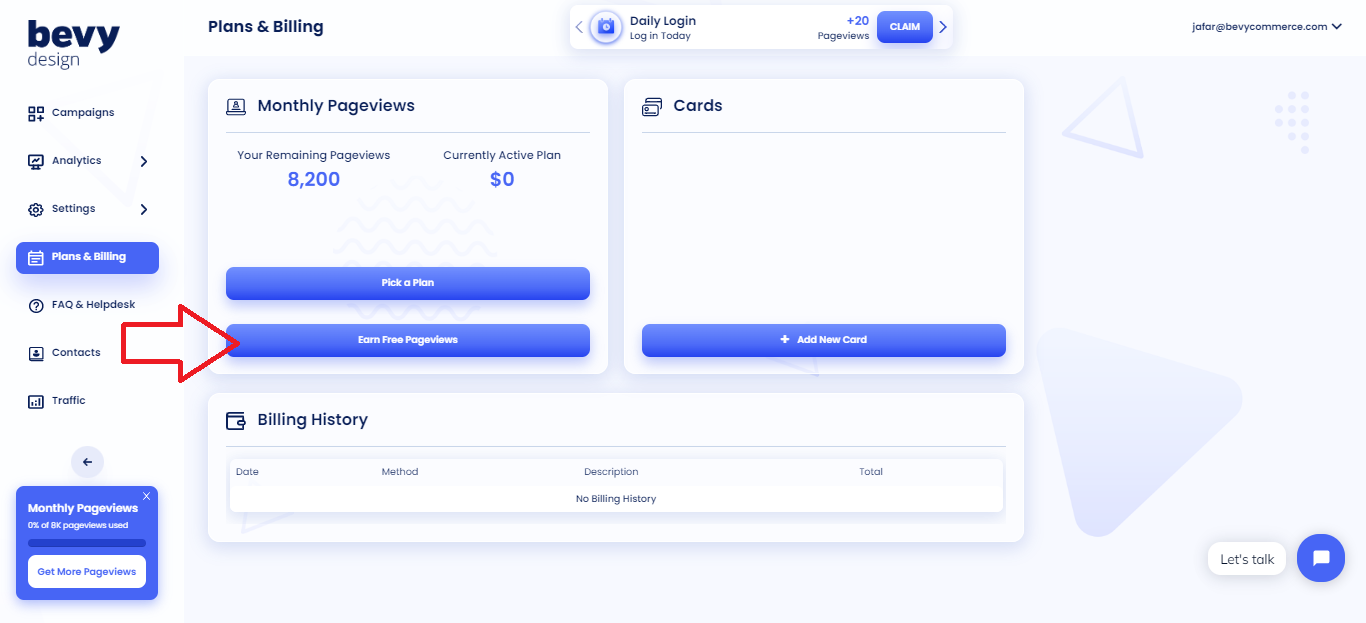 Step 2: This will open the Welcome to Bevy Design modal. Here, we will find all the challenges waiting to be claimed.
To claim a challenge, simply click on the Claim button next to the challenge. Finally, we have to click on the Got It, Start Earning! button to confirm our claim.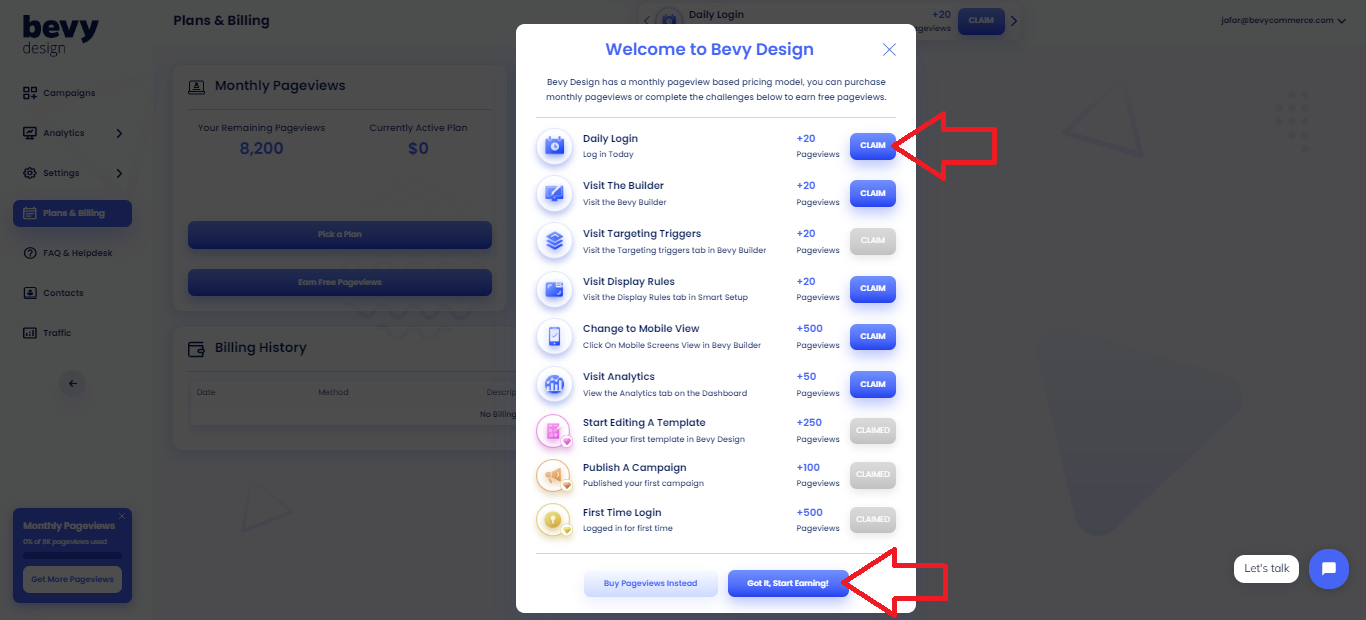 If we are done claiming all the rewards and need more pageviews, we have to click on the Buy Pageviews Instead button.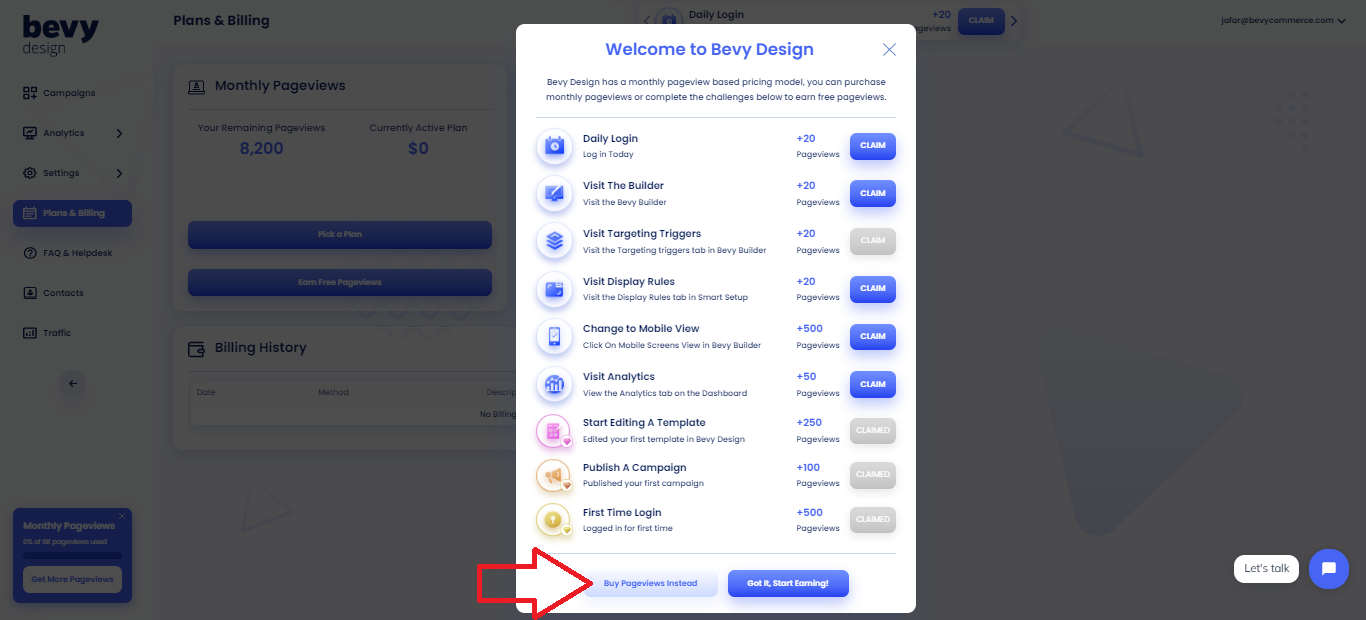 This will take us to the Select Your Monthly Plan modal. And from there, we will be able to continue our purchase.
We hope this article gave you an overall idea of our plans and billing process so that you can pick the one that works best for you. For more information on the pricing of Bevy Design, visit this page.
If you have a query that wasn't addressed in the article, simply reach out to us via live chat or email at [email protected].